Otium Planning Group has worked on multiple strategies for social infrastructure.  We have prepared a number of open space, sport and recreation strategies for local governments across Australia.   Otium staff have also been involved in the preparation of state-wide guidelines for planning in three states and have prepared parks, recreation and sporting facility infrastructure plans for numerous councils.  Our expertise in facility planning combined with our detailed understanding of local government environments means we can prepare realistic strategies and provision plans that meet contemporary and emerging needs.
Recently we have teamed up with Ethos Urban to prepare a number of social infrastructure plans for councils in NSW.  There are key challenges in planning for councils within Greater Sydney, including how best to meet the needs of the increasing number of high-density residential communities in an environment where new land is scarce and there are increasing pressures on public facilities.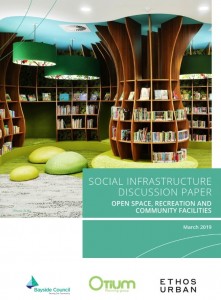 Providing community facilities, parks, sport and recreation infrastructure requires innovative strategies and a contemporary understanding of the current and emerging trends in social infrastructure planning and provision.
Some of our current projects include:
Bayside Council Social Infrastructure Strategy
Northern Beaches Social Infrastructure Strategy
Kempsey Community Infrastructure Strategy
City of Swan Open Space and Community Buildings Strategy (in partnership with Dave Lanfear and Associates and UWA)