Otium Planning Group continues to work with a broad range of clients to deliver strategic planning and feasibility for Outdoor Recreation initiatives.  A key focus for us is the recognition that investment in outdoor recreation responds to emerging community demand for more outdoor opportunities while building a region's tourism potential.  We have a strong focus on developing sustainable models of provision while proposing a strategic framework that prioritises investment building capacity in a structured way.
Following are snapshots of recent Outdoor Recreation Projects we have undertaken.
The Wangetti Trail
The Queensland Government has continued to support this nationally significant trail which will link Port Douglas to Palm Cove offering multi-day walking and mountain bike riding opportunities through world heritage forest along one of the most beautiful coastlines in Australia.
Otium worked with Cairns Regional Council, Douglas Shire Council and trail visionaries, World Trail, to develop the initial implementation plan for the trail.
Since then, the Queensland Government has invested $900,000 in the detailed planning studies and is now investing further with $5.7M to complete the first phase of a world-class ecotourism experience that's tipped to create 150 jobs and pump up to $300 million into the Tropical North Queensland economy.  The Federal Government has also recently confirmed they will contribute $8M towards the project.
For more information on the Wangetti Trail: https://www.ditid.qld.gov.au/tourism/special-projects/queensland-ecotourism-trails/wangetti-trail
Mackay Regional Council Commences Detailed Investigation for the Eungella-Finch Hatton Mountain Bike Trail Precinct
Otium and World Trail worked with Mackay Regional Council and the local mountain biking community to develop a Regional Mountain Bike Strategy.  This strategy identified a significant opportunity to develop a mountain bike destination based on the Eungella Range and Pioneer Valley.  Council has now engaged Otium Planning and World Trail to undertake the detailed feasibility work to establish a mountain bike trail tourism destination of national and international appeal.  The opportunity at this destination includes downhill, flow and cross-country riding through rainforest and woodlands, connecting ranges, lakes, forests, national parks and waterfalls.  A key strength of the destination is the multiple other outdoor recreation opportunities available along with the welcoming communities of Eungella and Finch Hatton.
Cassowary Coast and Tablelands Regional multi-use Trails Strategy
Otium partnered with Queensland Outdoor Recreation Federation and Tablelands Outdoor Recreation Association to prepare a strategy to guide the planning and development of a network of multi-use trails within the combined region of Atherton Tablelands and Cassowary Coast.  The strategy combined multiple data sources and worked with local community and government stakeholders to develop a strategic framework for classifying and prioritising trails in the region.  A key outcome was a methodology for progressing trail proposals that looked at the importance of both linkage and destination trails and outlined key actions to progress those priority trails identified in the study.  The strategy is designed to be used by community and government to progress trails development in the region.
For more information go to:
https://qorf.org.au/industry/outdoor-projects-master/regional-multiuse-trail-strategy/
Draft Lake Hughenden Recreation Management Plan
Flinders Shire Council in North-West Queensland has had a long-term vision to develop a recreation lake in the township of Hughenden.  Following successful funding for the development of the lake, council engaged Otium to prepare a recreation management plan so council can manage the resource sustainably and maximise the recreation opportunities for the community.  We worked with their regular partners Bligh Tanner to review the management models and recreational water quality issues that needed consideration in managing this resource.  The Draft Recreation Management Plan has identified a number of strategies including activity zones to ensure that residents and visitors can enjoy the lake safely.
Huon Valley Mountain Bike Strategy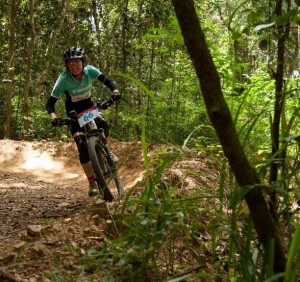 Half an hour south of Hobart lies Huon Valley, one of the most beautiful and diverse areas in Tasmania.  Huon Valley Council has identified an opportunity to develop mountain bike trails in the area making use of the extensive forested areas and challenging terrain.  Mountain biking is an ideal fit for the region, building on its strong tourism focus and existing outdoor and adventure opportunities such as the Tahune Airwalk.  Otium is once again partnering with World Trail to investigate the opportunities and prepare a strategy for Huon Valley that will see the region become a new mountain bike destination.
Proposed Mareeba to Walkamin Rail Trail
We recently commenced a feasibility study for Mareeba Shire on the establishment of a rail trail between Mareeba and Walkamin.  As a first step the Otium team, along with their engineering partners Bligh Tanner and Landscape Architectural partner Landplan, have headed out to ride the proposed trail. This multi-user trail would link to the existing rail trail network within Tablelands regional Council which links to Atherton and will eventually connect to Herberton.
The feasibility investigation will explore options for trail design that addresses a number of challenges including local road crossings and a highway crossing.  In addition, a key part of the feasibility is the investigation of options for trail management and maintenance that establishes a model for the trail which will enable resident and tourism use that is sustainable economically.
Central Coast Mountain Biking Feasibility Study Commences
Central Coast Council in NSW has engaged Otium and trail partners World Trail to prepare stage one of a feasibility investigation for the development of a Mountain Bike Trail Network in the region's natural areas.  The Otium team was on site at the beginning of April to start the project and prepare the way for discussions with local stakeholders and site investigations by the World Trail team.  The project is expected to be completed by the end of June.